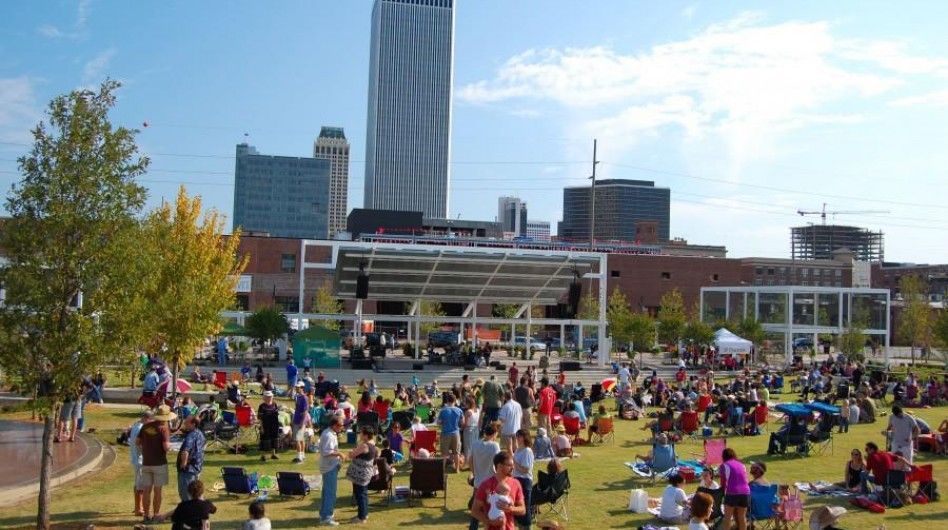 The George Kaiser Family Foundation's urban garden project, Guthrie Green, has quickly become one of our favorite places in Tulsa. Why? The newly created garden and event space allows Tulsans to enjoy many activities free of charge in a great atmosphere. It is located in the Brady District downtown, convenient for many workers, and offers many events such as Food Truck Wednesdays, free exercise classes, live performances, a café, and water features.

Photo Credit: Guthrie Green
Food Truck Wednesdays gives Tulsans many options for lunch, as food trucks line the streets around Guthrie Green, giving you a taste of the best Tulsa has to offer. There is a wide range of choices, from Mexican to hamburgers to desserts and snowcones. There is even a French-Vietnamese truck! This event happens every Wednesday from 11:30-1:30pm so be sure to take a break and stop by!

Photo Credit: Guthrie Green
 
Guthrie Green has also promotes healthy lifestyles by offering free fitness classes during the week for professionals and families. Classes include Tai Chi, Boot Camps, Family Yoga, Fitness walking, and Mommy & Me classes. Lululemon hosts free yoga classes on Wednesday nights, and Ariane Betancourt hosts free zumba classes Sunday mornings.

Photo Credit: Center of the Universe Festival
However, if you're not looking to eat or exercise here, there are still other options. Guthrie Green offers many live music performances at several times during the day. One of its biggest events is coming up this weekend, the Center of the Universe Festival, hosting OneRepublic, OK GO, Neon Trees, and many more national and local acts! And the best part is tickets are FREE! The festival is from Friday-Saturday, July 19
th
-20
th
, 2013 from 5-11pm. To order your free tickets, visit

http://centeroftheuniversefestival.com/about

.
Leave Us A Comment
comments