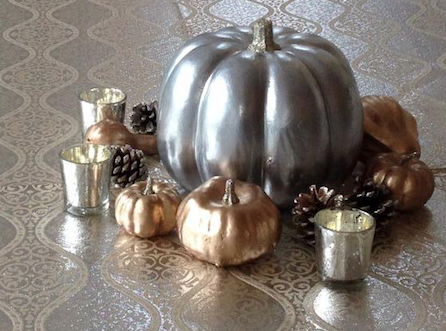 Just in time for Thanksgiving I have the perfect DIY project to liven up your feast. These pumpkins also make elegant centerpieces for an autumn wedding.
I bought my Styrofoam pumpkins from Hobby Lobby. They are still available and now they are at least 50% off! This project also works as a makeover for any old Styrofoam or ceramic pumpkins lying your house.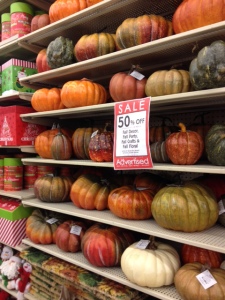 Supplies:
Drop cloth
Rubber gloves
Styrofoam pumpkins
Metallic gold and metallic silver spray paint
Gold and silver glitter
Brush-on tacky glue
Step 1
Lay out your drop cloth somewhere outside with plenty of fresh air. You don't want to get high on the paint fumes! Consider wearing a mask. I always wear plastic gloves when spray painting to keep the paint off my hands (it takes forever to wash dry paint off skin).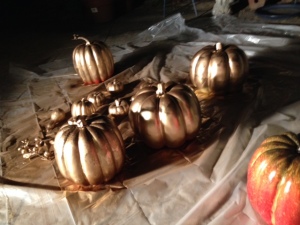 Step 2
Spray the pumpkins with metallic gold or metallic silver spray paint. Make sure to keep your spray can at least 2 feet away from the pumpkins. Spray in a circular motion until they are coated.
Step 3
Let dry for 10-20 minutes. Once dry, flip the pumpkins over and coat the underside.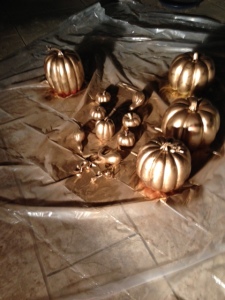 Step 4
Allow pumpkins to dry for 30 minutes.
Step 5
Use the brush of your brush-on tacky glue to apply glue onto the pumpkin's stem.
Step 6
Sprinkle silver or gold glitter onto the stems until coated. Shake the excess glitter off the pumpkin onto your drop cloth. I mixed both gold and silver glitter before I applied it to my pumpkins to pull all the metallic centerpiece colors together.
Step 7
Let the glue dry for 30 minutes.
Step 8
Decorate! Here's some pictures of I used my pumpkins for the Tulsa Wedding Merchants event at Philbrook. Linens and votives courtesy of Party Pro Rents.
BONUS: I also grabbed some pinecones from a tree in my backyard to add a little autumn variety. I brushed them with my tacky glue and sprinkled them with glitter. Let dry for 30 minutes, then add them to your elegant centerpieces.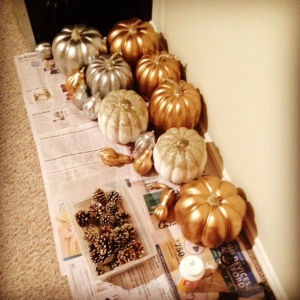 Can't wait to see what Thanksgiving centerpiece ideas youcome up with. Post your pictures in the comment section below!
Happy Thanksgiving from Take Heart Events!
Leave Us A Comment
comments